Frequently Asked Questions on the Mac App Store
To return to the product page, please use the "Back" button of your browser.
Why are most of your applications not available in the Mac App Store?
Software sold by Apple through the Mac App Store underlies certain limitations with respect to content and technologies used. Such programs, called "Apps", are restricted. For example, an application that is capable of accessing files of the operating system or of other users after entering an administrator password is too powerful to be an App, so it cannot be sold in the App Store.
It would not be in the interest of our customers to cripple our pro applications, so that they could be offered through the App Store.
I have clicked the "View in Mac App Store" link on Apple's web page for your App. For some reason, iTunes is started, telling me your App is not available in my country. How should I purchase?
This is a known problem which can occur when you have followed particular links on third-party web pages, directing your web browser to Apple's site. Please only use our original links from the "Purchase" page of the respective App, preferably with Safari.
I have lost one of your Apps. How can I get it back without having to pay again?
After you have purchased a license to use an App, you can download it as often as you like. Such downloads are free. Just navigate to the list of purchases shown for your account in the App Store application.
I like to use the App on more than one of my computers. Do I have to buy multiple licenses?
If you are a private consumer, the answer will be no. Licenses you purchased in the Mac App Store are valid for an unlimited number of computers that you own. So there is no need to buy more than one copy.
If you represent a company or other organization, a license bought via the App Store is valid for either one single computer or one single person using multiple computers. For details in this case, please click the link App License Agreement which is displayed on the page of each App in the App Store.
How I can purchase older versions of an App for older operating systems?
Most of our Apps are available in old versions which support operating systems down to Mac OS X 10.6.6. If you are using the latest version of the App Store available for your operating system, it won't be a problem to purchase a previous version if the up-to-date version is no longer supporting the older macOS:
Initiate a purchase of an App license.
When the App Store asks whether you like to download the last compatible version instead of the up-to-date version, confirm this.
Can I download a previous version of an App if I also use an older operating system which is no longer supported by the up-to-date version of the App?
Yes, in this particular case, this won't be problem. You only have to ensure that you are using the latest version of the App Store available for the old operating system:
Launch the App Store application.
Ensure you are logged in to the App Store with the Apple ID you had used when you purchased a license for the respective App from Apple.
Select the "Store > View my Account" menu item.
In the list of purchases, click on the cloud button next to the App you like to download.
Confirm that you like to download an old version compatible with your operating system.
Apple automatically selects the highest version compatible with your specific operating system. You cannot choose a version manually.
After I download a new or updated App and try to start it for the first time, it appears to quit immediately and nothing else happens. What should I do?
When you are launching an App for the first time, Apple will verify if you are a legitimate user of the App. This can take some time, especially if the App Store is currently under high load. You should just wait a few seconds. After a while, macOS should display a panel asking you to enter your Apple ID account credentials. If that panel is missing, either Apple's App Store servers will be failing, or there will be something wrong with your Internet connection, or your installation of macOS will be defective. This will affect all paid Apps you have not used on this computer before and has nothing to do with the App you just loaded. Please verify that your Internet line is OK and that you are online. It might also help to wait a few minutes and try again. If this is not successful, please contact Apple for further assistance.
An App I have bought suddenly does not launch any longer. I am either told the App is damaged, or that it was bought for another computer. What now?
Due to an architectural design issue with the way Apple generates the technical license confirmations for Apps bought from the Mac App Store, most of such receipts for paid Apps will expire at a specific date and time. The last time this happened was
February 14, 2016, 06:56:35 p.m. UTC.
Most paid Apps purchased before but launched after this date, will expect that you re-confirm with Apple that you are a legitimate license holder. After you have specified the correct Apple ID and password matching your purchase, the App Store will re-issue your receipt and the App will start again. We have no influence on Apple's policy.
If you see a window like the following, just specify your App Store credentials used to purchase the App to resolve this problem. If you receive a message that the App is damaged, please see the next question.

Note: A similar problem occurred on
November 11, 2015, 9:58:02 p.m. UTC.
macOS no longer starts an App and tells me it is damaged although I used it many times before. The file is OK and restoring it from backup has no effect. How can this happen?
Sometimes, macOS will surprise you with an error message like the one shown in the following window. This can happen after you downloaded an App for the first time, after you have updated an App, or after the receipt of an App has expired as explained in the preceding section.

The error message is shown by macOS, not by the App. In nearly all cases, it does not indicate that files of the App have been damaged. (This could also happen, but in this case, you will see a different message which is explained in the next section below.) The message actually indicates that there is something wrong with the technical license confirmation (receipt) the App Store has generated for you, designed to prove that the App can be legitimately used on this Mac. Apple likes you to delete the App in this case, because this will automatically delete the defective receipt as well. After that, the App Store will have a second chance to create a correctly working license confirmation.
It might actually not be necessary to delete the App. You should first try just to restart the operating system. If time and date are not set correctly on your Mac, you should also correct these settings in System Preferences before the restart. In many cases, this will fix the problem already.
If you are using OS X 10.11 or OS X 10.11.1, you should update to OS X 10.11.2 or later.
If you are using a version of Mac OS X Snow Leopard (10.6.x), you will need to install the software package Mac App Store Update for OS X Snow Leopard 1.0. It was published by Apple on January 27, 2016 and is available through the Software Update feature of the operating system.
If you had launched Apple's developer tool Xcode at least once on your Mac before February 14, 2016, you must delete a specific certificate on your system. It does not matter if Xcode is still on your system or not, and it does not matter whether you have already updated problematic versions of Snow Leopard or El Capitan. In that case, open the Keychain Access application, select the System keychain, locate the certificate named Apple Worldwide Developer Relations Certification Authority, then delete it and restart your computer. If you need this certificate for software development, follow Apple's official instructions to install an up-to-date version.
If these hints don't apply to your case, you can just follow Apple's recommendation, delete the App, and download it again. If you need detailed instructions, please see the end of the next section.
After an update, the App itself tells me its resources are damaged. What can I do?
When you update an App from the App Store, it can sometimes happen that Apple's update installer destroys parts of the software. This can especially happen if you allow automatic updates for Apps which are supposed to run all time. Because we know of this problem, all our Apps contain a security feature to detect this type of damage. In this case, you'll see a warning message similar to one of these examples ("Warning: The resources of this application have been damaged." or "Warning: This App has been partially damaged."):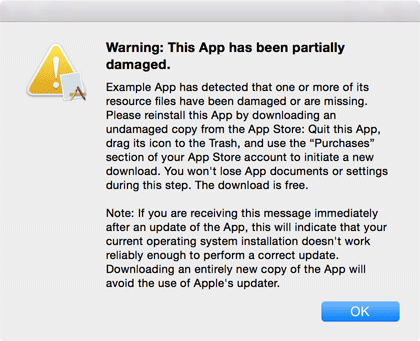 If the App Store application has destroyed the App, please use the following instructions to resolve this problem. All documents and settings of the App will remain intact:
Quit the App in case it is still running.
Locate the icon of the App in the Finder and drag this icon to the Trash.
Open the App Store application and go to the section "Purchases". You may need to identify as the user who has originally purchased the App, using your Apple ID and password.
Locate the damaged App in your list of purchases.
Press the Download button for this App in the list to initiate a new download. The download is free. A fresh copy of the App will be installed on your system, avoiding the update mechanism of macOS which has damaged the App before.
The App should now work fine. If you still experience the same problem, your computer should be checked by a service technician.
Can I copy an App to a computer which is not connected to the Internet?
You can copy the App, but it won't work. All paid Apps require an Internet connection the first time they are started on a different computer. Apple verifies if you are the legitimate user of that App.
Can you help me if placing an order or downloading an App is not working?
Unfortunately, no. Apps are sold by Apple. It is neither legally, nor technically possible to give you any direct support regarding issues with the App Store or unlocking Apps with your Apple ID.
Who should I contact if I experience problems with the Mac App Store?
Open the App Store application and click on the item Support. It will direct you to a web page which can be used to contact the App Store. Note that there are actually five different App Stores, depending on country. The following companies are the actual vendors responsible for the transactions:
Actual Vendor

Responsible for the following countries:

Apple Inc.
One Apple Park Way
Cupertino CA 95014
USA

United States of America


Apple Canada Inc.
120 Bremner Blvd, Suite 1600
Toronto ON M5J 0A8
Canada

Canada

Apple Pty Limited
Level 3, 20 Martin Place
Sydney NSW 2000
Australia

Australia, New Zealand

iTunes K.K.
Roppongi Hills
6-10-1 Roppongi, Minato-ku
Tokyo 106-6140
Japan

Japan

Apple Distribution International Ltd.
Hollyhill Industrial Estate
Hollyhill, Cork
Republic of Ireland

Albania, Algeria, Angola, Austria, Armenia, Azerbaijan, Bahrain, Belarus, Belgium, Benin, Bhutan, Botswana, Brunei, Bulgaria, Burkina Faso, Cambodia, Cape Verde, Chad, China, Congo, Croatia, Czech Republic, Cyprus, Denmark, Egypt, Estonia, Fiji, Finland, France, Gambia, Germany, Ghana, Greece, Guinea-Bissau, Hong Kong, Hungary, Iceland, India, Indonesia, Ireland, Israel, Italy, Jordan, Kazakhstan, Kenya, Korea, Kuwait, Kyrgyzstan, Laos, Latvia, Lebanon, Liberia, Lithuania, Luxembourg, Macau, Macedonia, Madagascar, Malawi, Mali, Malaysia, Malta, Mauritania, Mauritius (Republic of), Micronesia, Moldova, Mongolia, Mozambique , Namibia, Nepal, Niger, Netherlands, Norway, Oman, Pakistan, Palau, Papua New Guinea, Philippines, Poland, Portugal, Qatar, Romania, Russia, Sao Tome e Principe, Saudi Arabia, Singapore, Senegal, Seychelles, Sierra Leone, Slovakia, Slovenia, Solomon Islands, South Africa, Spain, Sri Lanka, Swaziland, Sweden, Switzerland, Taiwan, Tajikistan, Tanzania, Thailand, Tunisia, Turkey, Turkmenistan, Uganda, United Arab Emirates, Ukraine, United Kingdom, Uzbekistan, Vietnam, Yemen, Zimbabwe

Apple Services LATAM LLC
One Apple Park Way
Cupertino CA 95014
USA

Anguilla, Antigua & Barbuda, Argentina, Bahamas, Barbados, Belize, Bermuda, Bolivia, Brazil, British Virgin Islands, Cayman Islands, Chile, Colombia, Costa Rica, Dominica, Dominican Republic, Ecuador, El Salvador, Grenada, Guatemala, Guyana, Honduras, Jamaica, Mexico, Montserrat, Nicaragua, Panama, Paraguay, Peru, St. Kitts & Nevis, St. Lucia, St. Vincent & The Grenadines, Suriname, Trinidad & Tobago, Turks & Caicos, Uruguay, Venezuela