The SSD Window (Specific Intel-Macs only)
To open the SSD window, select the menu item Window > Show SSD (Some Intel-based Macs) or press the key combination ⌘ + 8.
The window can only be opened under specific conditions:
You are using a Macintosh with Intel processor.
The Mac contains at least one SSD, which is accessed via PCIe interface and NVMe protocol.
Even if both conditions apply, it is not always guaranteed that the SSD window will work correctly. This is a limitation of macOS, not of Mac Power Monitor.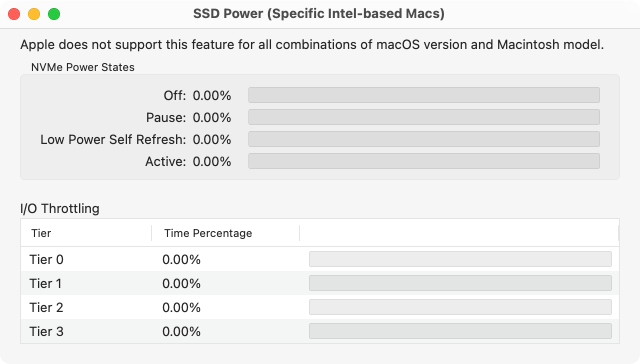 The box NVMe Power States lists the time ratios when the SSD was in certain operating or sleep modes during measurement.
The box I/O Throttling lists the ratios when data transmission between SSD and computer had to be limited in order to remain within the specified operating temperature range.